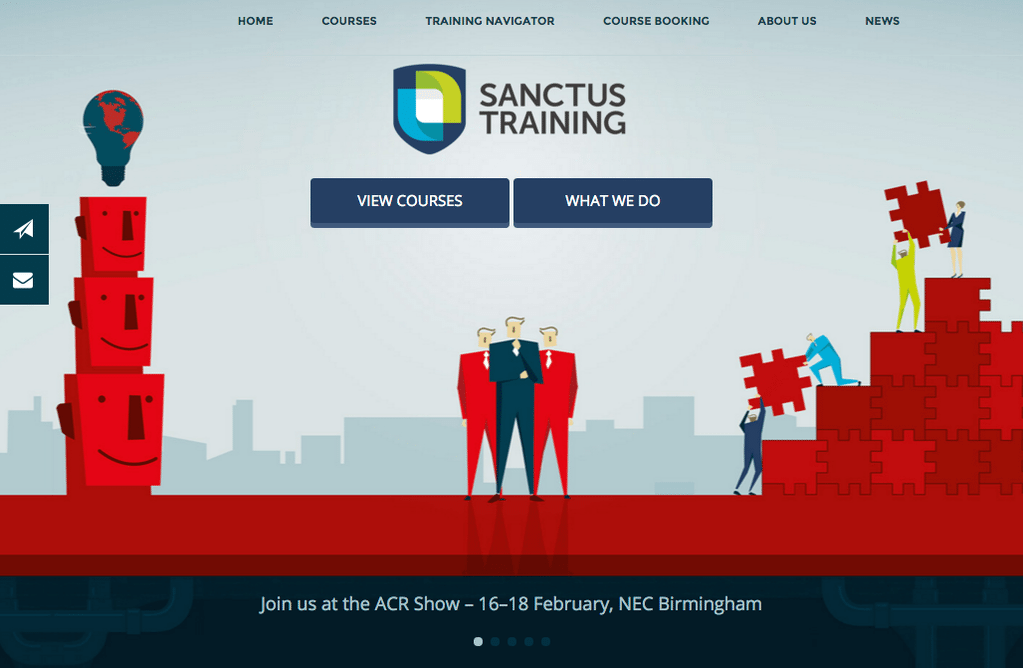 We are extremely happy to announce the launch of a creative brand-new website for Sanctus Training Limited.
Sanctus Training offers a comprehensive range of courses – covering a wide spectrum of subjects from Asbestos to Plumbing, First Aid, Health & Safety, Electrics and more.
The previous website, built by our very own Chris Ames back in the mists of time, listed courses, news and offered contact details, though little interaction.
The acquisition of Taiga Training added expertise in the area of heating, ventilation, air conditioning and refrigeration (HVACR) training and consultancy to the training offering and as such, the existing website was no longer fit for purpose.
The brief from the client was to make the site bright, graphically intriguing but above all drive course bookings via an e-commerce platform.
We focused on providing a seamless user-experience, using bespoke illustration from our in-house Studio team to engage and delight the potential attendee. The resulting solution became more than just a website, it challenged the team at Sanctus Training to evolve their working practices and make the business 'digitally driven'!
As it was such a wide-ranging project, we needed to keep a tight eye on our task management, Basecamp came to the rescue and provided a home for all documents, to-do-lists and amends.
Alongside this, we also rebranded Sanctus Training, introducing a new logo and contemporary imagery to feature on business cards, stationery and course certificates.
Sanctus Training are committed to providing quality training to their clients and have been delivering this service for many years. They are flexible around client needs and will continue to develop their offering throughout 2016, to develop the client's workforce and meet their business objectives. Sanctus Training is part of the Sanctus Group of companies which includes their sister company Sanctus Ltd, a specialist in contaminated land remediation – http://www.sanctusltd.co.uk.
Take a look at the new website today!