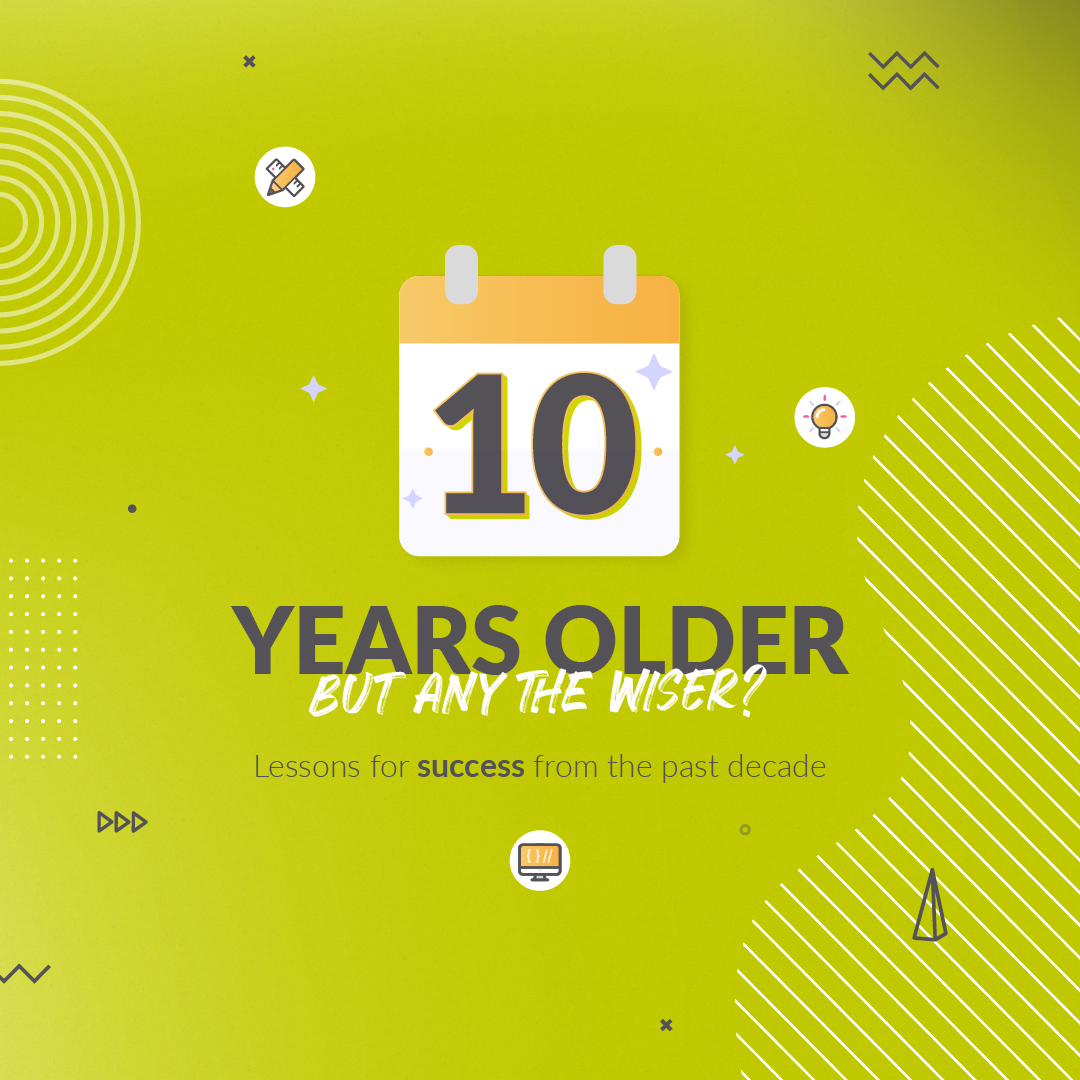 Lessons for success from the past decade
You're going to want to sit down for this one, because we have some BIG news for you…
This year marks TEN! 
Ten years of hard work, fun, memories, and amazing achievements to look back on fondly for us all (and yes, before you say anything, not all of us have been here since the beginning but we're proud all the same!). 
To commemorate our first decade of success and failure alike, we've decided to share with you ten lessons, both big and small, that we've learned along the way. 
Do as I say, not as I do: When we started, Ryan and Emma went through the ringer trying to figure out the best name for the company. After a great deal of thought, research, and figuring out the 'personality' of the company, the first name we landed on was BrouHaHa. But days before our launch, we discovered an agency had registered that name just days before. They went back to the drawing board to figure out their next game plan and soon landed on Twist & Shout, following advice that suggested there was enough diversification between us and an existing film company. But alas, it turns out there wasn't! We quickly learnt that, in the eyes of the law, if that film company had also once created a poster for a film then they would officially be considered a marketing agency. £10,000 to our detriment, it was later agreed we could trade under t&s creative communications, and the rest was history! Lesson for the future: don't compromise on due diligence because it's for yourself. We never would have cut corners on advice for a client, so there was certainly no need to treat ourselves any differently!

Persistence makes impression: Success isn't built overnight, and it sure as sh*t isn't built without ruffling a few feathers. Some people call it desperation, but not us. Persistence can make the biggest and best impressions at times, and that's how we've managed to win a lot of clients. In fact, one time our Business Development Executive followed a prospect into the toilets! We're not necessarily saying do as she did, but it's the thought that counts! 

The end is (not necessarily) nigh! A few years ago, we lost a £1.2million motor's account and were in some BIG trouble. But we found that times of crisis  can often really focus your attention. Some beneficial side effects to the situation were learning who the future leaders of the company could be, as we watched some bottle and leave the company whilst others stepped up in the face of uncertainty. Sure, those who left may have been a blessing in disguise for short-term financial woes, but without a doubt it caused ripples within the agency. Two years later though, we'd built a stronger team and replaced lost revenue, such that when the pandemic hit and the motors industry was switched off, our new portfolio had diversified into a handful of key COVID-secure clients, making us stronger than ever. The scary truth is that if we hadn't lost that big client two years prior, we may not have seen our 10th year in business!

Imposter syndrome is a f*cking lie: Just ignore it. Have faith in what you as an individual, team, or business have to offer and prove to people you have what it takes. Consider this: just because you've been at it for less time or don't have a big team or office, doesn't mean you couldn't do the job 10x better than the next lot. Have faith in yourself and your team, and go for the work, awards, and recognition as they come. As Connie Mack and Wayne Gretzky once said, you can't win them all, but you miss 100% of the shots you don't take. We believe in you!

Own your mistakes: Recognise them, admit to them, and then move on. Don't dwell on it, don't panic, don't bring yourself or your team down. Mistakes are meant to be made, otherwise the word wouldn't exist. As you'll have noticed, our current landing page is a placeholder for our new website, and that's because it took us longer than it should have to update it! Mistake made, sure, but we've moved on and put in the work to solve the problem. Learn, act, and keep moving forward!

Teamwork makes the dream work: Staff morale is everything, and a happy staff makes for happy work. Way back when Ryan was a wee young lad, he recalls going out on an office do at a company he'd just started with. Later in the evening he and the team were left by the bosses to pay for themselves, but not having his first paycheck and much money to his name meant he couldn't afford to buy a round for his colleagues. Since then (and, obviously, since starting t&s), Ryan's made it his personal mission to be the last one out at an office party so that nobody has to pay for themselves when out with the office! Or at least… that's what he tells us… maybe he just likes drinking that much…

An issue is an issue until it's not: In personal and professional lives alike, we all often have a tendency to shy away from addressing issues and just bottling it up or trying to fix it without it becoming a 'big thing'. But that's just it… if you don't address it, it becomes a big thing! Put all the issues on the table and figure it out as a team, don't worry so much about getting things wrong (see point 5: mistakes are meant to be made!).

Improvise. Adapt. Overcome. Always be on the lookout for opportunities for change, growth and innovation so that you can stay ahead of the game. As a full-service agency, we're always looking for new and exciting ways to innovate. That way we can continue to deliver high-quality services to new and existing clients alike. Don't fall into the 'comfort trap™' and get left behind by those around you. Think outside of the box!

Relationships are everything! This comes two fold. Not only can you make lasting friendships in your place of work (the number of weddings we've been to is astounding), but the clients that you work with are also invaluable connections to maintain. As the saying goes, clients come and go, but long-standing professional relationships last forever (or something to that effect). Maintaining client relationships can prove instrumental to winning new business in the future, because when someone moves from business to business, they might just recommend your agency for future work!
Frankie says relax. Take things seriously, sure, but always remember to have fun. Not only does it help the day go by, but it helps you think outside of the box. Sometimes that might just mean giving a new client something they never would have expected, and who knows what great opportunities that could bring in the future!
Of course, the list doesn't just end there, but you'd be here for hours if we listed out every lesson we've ever had in the past 10 years. That, and we'd have been here for hours just trying to wrap our heads around what those lessons were, and fortunately, we have quite a few better things to keep us busy. 
But don't be shy, we'd love to hear some of the lessons you've learned over the years. Whether you're just starting out, or your business has been rocking for two, three, four or more decades, all lessons are good lessons (especially the ones you don't have to learn first hand!). 
Get in touch with us and let's chat!